$49 Special Discovery Session for First Treatments
SoftWave in Farmington is the most advanced and permanent healing therapy we offer.
It goes beyond natural healing by utilizing new technology to activate stem cell migration, thereby accelerating the body's healing process.
With our electrohydraulic spark gap technology, the SoftWave machine, also known as the StemCell Machine, produces highly effective, unfocused low-intensity parallel shock waves that cover a large area of superficial and deep tissue. This allows for a "bath" in shockwaves, ensuring no area is missed during treatment.
The treatment triggers the body's natural healing process, motivating tissue to heal. As a result, patients experience faster healing and regain joint motion and strength without further injury. The SoftWave device is made in Germany by the world's top engineers and machinists. It is considered the most advanced shockwave device ever created.
---
Is this therapy a good option for me?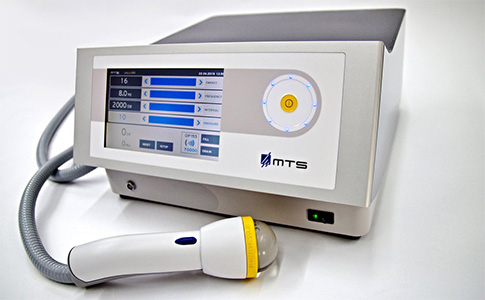 This form of regenerative medicine effectively treats tendinitis and other persistent injuries. In addition, for individuals who have tried various therapies with no success, this approach provides a solution for conditions that do not respond to conservative care but are not yet ready for injection or surgical treatments.
Many painful conditions can leave you in a difficult position where the problem persists despite conservative treatments such as chiropractic or physical therapy. Injection or surgical intervention may not be a viable or desired option.
Regenerative medicine, also known as tissue regeneration, bridges conservative and invasive treatments.
Suppose an injury continues to be used without proper healing. In that case, it can result in further damage and make the recovery process more challenging in the long run. Surgery may become necessary if the condition worsens and results in a rupture.
Furthermore, new problems may arise if left untreated, such as compensation injuries when other parts of the body have to compensate for the pain in the affected area. For example, limping due to heel pain puts more pressure on the other foot and hip, leading to knee, hip, and lower back problems.
Shockwave therapy can also promote faster healing after surgery. For instance, surgery may correct hip impingement. However, shockwave therapy can address these secondary issues if the surrounding tendons and ligaments are still painful.
This therapy is best suited for conditions with poor healing, poor blood circulation, and poor nerve function, such as:
Sprains and strains
Shoulder pain, tears, and arthritis
Hip pain and arthritis
Low back pain and arthritis
Tendonitis and arthritis in the hands and elbow
Knee pain, arthritis, worn-down knees, and sprain injuries
Foot pain, neuropathy, plantar fasciitis, and arthritic toes.
Achilles tendonitis
Elbow pain, golfers and tennis elbow
Carpal tunnel syndrome
Hand arthritis
---
What are the effects of treatment?
Shockwaves mimic the forces experienced during trauma and promote the regrowth of stubborn tissue and bone ailments. After a session, blood flow increases, and new blood vessels form. Repair cells get to work regenerating damaged tissue, and inflammation and pain moderate. The result is accelerated healing of stubborn musculoskeletal conditions in bones, tendons, ligaments, muscles, and skin. Effects typically relieve chronic pain and release muscular adhesions/tightness. Improvement of range of motion is a common result. SoftWave is scientifically validated to recruit and activate endogenous stem cell production, allowing the body to truly start healing from within.
---
How Does Treatment Feel?
As the clinician moves over the injury area, shockwaves break up soft tissue calcifications, enhance collagen synthesis, release growth factor, and ramp up your body's healing process to improve pain and help you stay active. It also has diagnostic feedback in which the "origin of pain" can be precisely identified, serving as an invaluable tool for proper treatment. This feedback mechanism allows us to know precisely where the problem is.
Communicating with the provider is necessary to identify treatment areas and monitor progress during therapy. The most tender areas of injury are where treatment is focussed. Additionally, the more tender an area is during treatment, the more likely you'll have an excellent result.
The procedure averages 10-15 minutes but may be longer depending on the number of areas and conditions treated. Treatment protocols are typically weekly for 8 to 12 weeks. Healing continues for 8-10 weeks after the final treatment session.
100% non-traumatic to tissue and cells
Near-immediate pain relief in most conditions
Sustained blood flow improvement
A treatment delivery zone thousands of times larger than other machines
---
How well does it work?
For spinal disk injuries, spinal degeneration, or arthritis, we expect an 80% recovery.
For non-healing ligaments, tendons, muscles, and skin, we expect an 80-90% recovery.
For non-healing fractures, we expect 60-80% to fully heal within eight weeks.
For minor cartilage damage, we expect an 80% recovery. Significant cartilage damage or torn cartilage requires a steroid management plan or surgical referral.
Taking anti-inflammatory drugs during treatment cycles will dampen results significantly. This is because anti-inflammatory and steroid drugs put stem cells to sleep.
---
The Best Kept Secret in Professional Sports:
The best kept secret in professional sports! After seeing an unprecedented acceleration of recovery times, success after success mounts.
Utilized by professional sports teams (Cleveland Indians, Brooklyn Nets, NY Giants, LA Lakers)
Utilized by top medical institutions (Cleveland Clinic, Mayo Clinic)
Top choice of many sports legends, active and retired.
Has helped thousands heal and recover in record time. Understood to be the profound advantage difference between who plays on the field and who stays in rehab.
Monday
8:00am - 6:00pm*
---
Tuesday
8:00am - 6:00pm*
---
Wednesday
8:00am - 6:00pm*
---
Thursday
8:00am - 6:00pm*
---
Friday
Closed
---
Saturday
Closed
---
*Treatment By Appointment
*We respond to texts and voicemails over the weekend