Massage Therapy in Farmington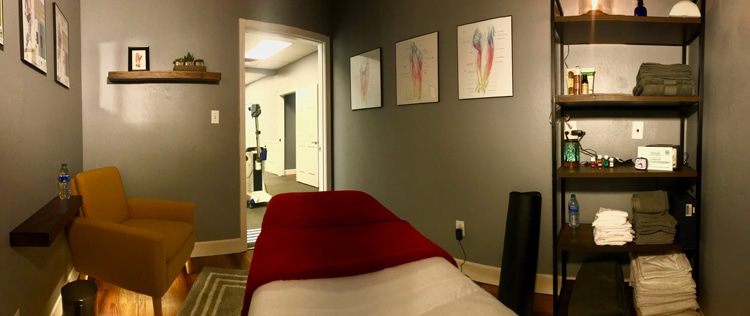 Combining your chiropractic care with massage therapy can be an awesome tool to help you continue performing at your very best. It also helps you heal faster and better. Massage therapy in Farmington can aid in recovery from injury, as well as helping manage stress. Less stress and improved sleep and better tissue repair are a rock star combination!
---
WHAT IS MASSAGE THERAPY?
Massage therapy is a healing practice that enhances an individual's wellness and physiological performance. Massage therapy can assist in shuttling toxins away from soft tissues, improving blood flow, and improving the resilience of the body's many fibers and joints.
The therapy has also been known to aid in treating muscle spasms and muscle trauma. Massage therapy reduces the amount of time it takes to recover by improving the flow of the circulatory system. This, in turn, allows the body to recover faster naturally.
A massage at Desert Hills Chiropractic can help address multiple issues such as back pain, healing from medical procedures, auto accidents, sports injuries, headaches and migraines, insomnia, and much more.
---
ADVANTAGES OF HAVING A MASSAGE THERAPIST AND CHIROPRACTOR NEAR ME TEAM
Chiropractic and massage are similar in that they both utilize the careful application of physical force on an individual's body promoting a stronger healing response.
There are tons of fantastic outdoor activities here in Farmington and sometimes that can mean a few more bumps and bruises. Our chiropractor and massage therapist work together and the duo is powerful.
It's not necessary to choose between massage therapy and chiropractic care, as both are excellent treatments that complement each other extremely well.
Massage therapy can enhance the healing effects of a chiropractic adjustment, and chiropractic adjustments make it easier for massage therapy to affect the body.
For the best massage therapy in Farmington, contact the chiropractor near me team at Desert Hills Chiropractic. Our team is ready to listen to you and create a plan for rapid and more complete recovery.
---
MEET OUR AWESOME FARMINGTON MASSAGE THERAPIST
Massage Therapist
Jessica Hodgman
Born and raised in Farmington, Jessica has a deep appreciation for the people of the Four Corners, our culture, and red & green chile. She is a licensed massage therapist, certified aromatherapist, and self-proclaimed breakfast burrito aficionado.
First licensed in Texas in 2010, Jessica began her practice with a large client base of soldiers from Fort Hood. Witnessing the physical and energetic traumas her clients faced, she balanced her knowledge base with both Eastern and Western modalities. Jessica is certified in Orthopedic Massage, Craniosacral Therapy 1 & 2, Kinesiology Taping, Reiki, Aromatherapy, and more.
After moving to Florida Jessica opened her second office. Collaborating with a Physical Therapist she shifted her focus to treating clients suffering from Temporomandibular Joint Dysfunction (TMJD) and chronic headaches.
Jessica has returned to Farmington, where she cannot wait to share what she has learned to help her neighbors and community.
Schedule a massage therapy appointment with Jessica today!
TYPES OF MASSAGE THERAPY IN FARMINGTON NM
Your massage treatment should be as unique as you are. Our therapist will adjust your session to fit your exact needs. We totally get that there are no two people alike. You can expect that every session may utilize various types of massage therapy to ensure the best outcome possible, the fastest.
Faster, better recoveries.
Jessica provides many different massage treatments in Farmington including:
DEEP TISSUE MASSAGE
Relax, unwind, and heal.
Deep tissue massage is exactly what it sounds like...it applies pressure to several layers of muscle and other tissues found deep within the body. This type of massage can help relieve pain, reduce muscle stiffness, and repair scar tissue.
You might feel like an old injury is as good as it will get. But seriously, stop letting yourself believe that your "normal pain" is just the way it is.
Bodies can be prompted to heal faster, better and more completely, even years after injury. Deep tissue massage therapy stimulates the body to take a second look at old injuries, tendon and ligament tears and scar tissue.
Deep tissue massages are highly therapeutic.
---
SWEDISH MASSAGE
A soothing, full-body massage designed to soothe and rejuvenate sore muscles and promote relaxation.
If you want to live in full health, lower stress and sleep better.
Therapeutic massage doesn't need to be painful to work. This treatment modality focuses on calming the nervous system, reducing tension in muscles, and increasing overall blood flow. This type of massage therapy can also help with digestive issues and constipation (abdominal massage).
Stress and lack of sleep reduce the bodies healing potential. There are too many awesome things in Farmington to let stress eclipse life, friends and family.
---
SPORTS MASSAGE
A massage for active/athletic people. This type of massage can help your body recover more quickly from injury and prevent future injuries by keeping the tissues of the body loose and flexible.
This therapy focusses on body balance and increasing flexibility, and power during movement. It also reduces the chance of many kinds of injury.
Whether you're a competitive athlete or a weekend warrior, regular massage therapy can help you improve your performance, ease muscle pain and stiffness, and keep you moving.
---
TRIGGER POINT THERAPY/MYOFASCIAL RELEASE
A targeted massage to relieve pain, stretch tissues and release adhesions beneath the skin's surface. Continuous movement can lead to tight and irritated tissues and muscle adhesions that just won't let go (trigger points). This type of massage can help by applying continuous, firm pressure to muscle trigger points, releasing the muscle adhesion.
Did you know that every muscle in your body is covered by a sheath of tissue called fascia? Sometimes, the fascia can get stuck and make you feel stiff and reduce mobility. Myofascial release can help loosen the fascia and restore muscle function, flexibility and mobility.
---
STRETCH MASSAGE
Muscle manipulation is combined with gentle assisted stretching to release daily tension and increase flexibility and mobility.
Stiff muscles and joints are not only uncomfortable, they often limit your range of motion. Stretching compliments all types of massage, and can even help your therapist work more effectively by releasing muscle tension.
---
PRENATAL MASSAGE
Targeted treatment for expecting moms.
During pregnancy, your body is changing every day, which can cause new aches, stress, and tension. We are happy to provide some extra support and relaxation during this time with our customized prenatal massage.
---
WHAT CAN I EXPECT FROM MY MASSAGE THERAPIST?
Nope.
You can undress to your level of comfort. Some clients prefer to keep their undergarments on, but this is completely up to you. You will undress and dress in the privacy of our massage room and will be securely covered by a blanket and/or a sheet during your massage session.
We've got you covered.
Massage therapy in Farmington can provide many benefits, such as:
Increased circulation
Stimulation of the lymph system, the body's natural defense against toxic invaders
Release of endorphins, the body's natural painkiller
Improved range of motion and decreased discomfort associated with back pain
Relaxation of injured muscles due to overuse
Reduced muscle spasms and cramping
Increased joint flexibility
Assists in recovery from strenuous workouts
Relief from migraine pain
Reduce post-operative adhesions and swelling, as well as repair or prevent scar tissue from forming
After your massage, there are some easy things you can do to help prevent some of the next-day soreness:
Be mindful of your water intake, both before and after your appointment. Hydrated muscles are more flexible and easier to work with. Also, there are some strongly-held beliefs that drinking water after a massage can help to flush away any toxins released by massage. Staying hydrated is always a good idea, but especially before and after a massage session.
Do some gentle stretching after your massage, paying special attention to the spots that received the most attention during your massage.
Try a warm bath, ideally with Epsom salts (1/2 cup to 1 cup for adults), and soak for 20-40 minutes. Epsom salts are an inexpensive and effective way to further help your body rid itself of toxins and reduce inflammation. Epsom salts also contain magnesium, a beneficial mineral, which will be absorbed through your skin.
Load up on vitamin C 1000-2000 mg/day for a healthy happy adult will boost the body's tissue healing response and decrease inflammation.
As your body adjusts to more regular massages, you'll experience less soreness.
A session consists of massage therapy, time for you to dress and undress and time to talk with our therapist to make sure we are addressing your needs for that session. Each time you come to the clinic for treatment, a brief assessment will be done to make sure there are no additional issues that need to be addressed. This is done to ensure that every massage session you receive from us meets or exceeds your expectations.
This will be determined by the therapist and the client. For those who use massage as preventative care, one massage a month is common. Weekly or multi-weekly sessions may be more appropriate if you are receiving massage therapy for an injury or to relieve chronic discomfort that is interfering with your daily life.
Yes! Our therapist is licensed in the state of New Mexico, which means that she has met the educational requirements and paid the fee to legally practice massage in New Mexico.
To obtain a license in New Mexico, a massage therapist will usually have to complete a minimum number of classroom learning and clinic hours at an accredited school and will have to undergo a full background check before receiving their license.
Also, massage therapists in the state of New Mexico are required to take a standardized licensing examination that they must pass before being issued their license to practice massage therapy. Each state has specific licensing and/or certification requirements for massage therapists.
You will be covered or draped at all times during your massage to keep you warm and comfortable. Only the area being worked on will be exposed. No areas will ever be exposed without your consent.
Please always let your massage therapist know if you are uncomfortable for any reason during your massage session, or if there are any areas of the body you would prefer to steer clear of for any reason (feet, abdomen, scalp, face, etc.)
We are here to be your chiropractor near me massage therapy team and we want your care to be seriously amazing.
To schedule a massage appointment with our team at Desert Hills Chiropractic in Farmington, give us a call at (505) 634-9225 or schedule here.
Monday
8:00am - 6:00pm*
---
Tuesday
8:00am - 6:00pm*
---
Wednesday
8:00am - 6:00pm*
---
Thursday
8:00am - 6:00pm*
---
Friday
Closed
---
Saturday
Closed
---
*Treatment By Appointment
*We respond to texts and voicemails over the weekend