Chiropractor Farmington NM
We are a modern clinic with outstanding service and patient care. We work with individuals in pain, or who have suffered an accident or injury. This article will help you learn the basics of chiropractic care. Please don't hesitate to contact our Farmington chiropractors with any further questions you have. We are here to help you achieve your goals
We are proud of our commitment to service, our care, and our patients. We love making our patients smile! We listen to your concerns and your personal health goals. Then we create the best care plan to get you where you want to be. Our care helps to restore your body. We call it the FSSA system and the results are fast and lasting. FSSA stands for Flexibility, Stability, Strength, and Agility. We tend to have short chiropractic treatment plans for pain and injury with excellent results because of our system.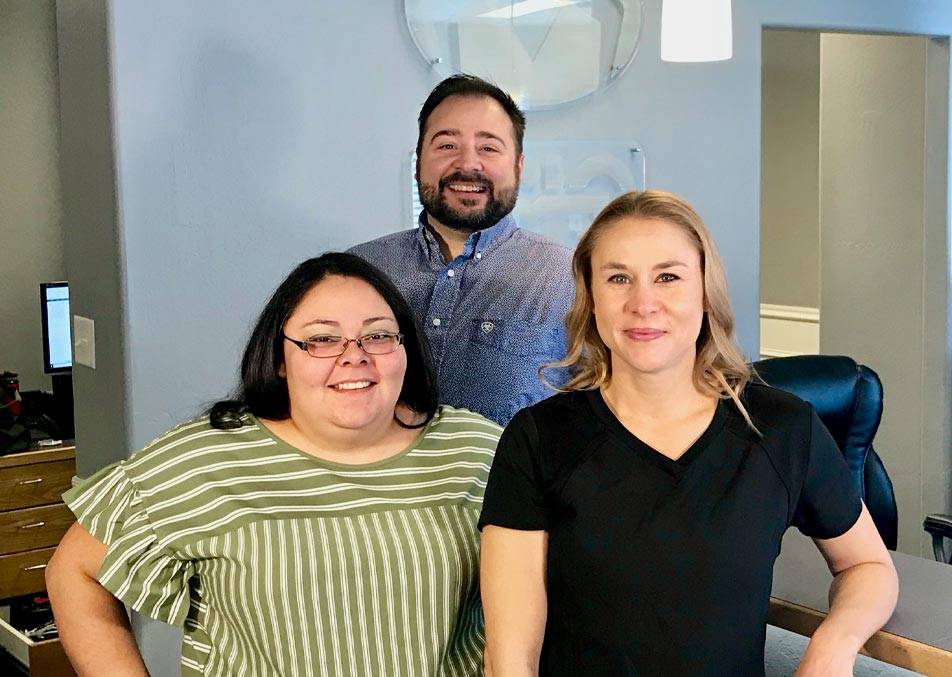 Desert Hills Chiropractic
WHY FARMINGTON?
"I fell in love with Farmington in early 2010 after visiting a good friend here. Just after graduation from chiropractic university, we spent several days fishing, laughing and generally enjoying being outdoors. I then practiced for an amazing 8 years in the northern panhandle of Texas. I love being a chiropractor, and getting to live and practice here is Farmington is a dream come true. The first time I fished the San Juan Quality Waters I was "hooked."
My family and I l fell in love with the area and continued to visit Farmington over the years for vacations. In 2009 my wife Erin and I brought the kids, we have four, up here to enjoy some rest, woods, friends and camping. The opportunity to make a move was offered to us. Erin and I thought it over, decided it was an adventure we wanted to go on and packed up the kids and house! We have never regretted the decision. We absolutely love the area and the people. We have made tons of new friends and are astounded by the community. Shortly after moving here I opened the new clinic, Desert Hills Chiropractic. I couldn't be happier.
I made this clinic, a model clinic. I prioritized patient-centered care and service. Healthcare, as a whole, is losing its humanity and heart. I can't let that happen. This clinic is different, the people come first."
---
WHY WE ARE YOUR GO-TO CHIROPRACTOR
Our short care plans and FSSA system are focused on resolving your pain and sending you back out to do what you love. We are family, especially Mommy, friendly. In most cases, our patients experience a 20-30% improvement in symptoms each visit. This is because of our FSSA system of care and the "healthy habit" coaching we offer. Even though most conditions we treat resolve quickly, all bodies and conditions are unique and we cannot make any guarantee of a patient's individual treatment outcome.
Life happens, but you have awesome chiropractic help available here in Farmington. Most of our patients come in because they haven't been recovering on their own, they are under too much stress or a heavy workload, or they had a new injury. We are offering you offer a FREE consultation*, it's a chance to meet with the doctor and discuss your issue and your goals. If you haven't been recovering on your own, or you're getting worse, don't miss out on a proven plan to get better.
We are located on N Butler Ave, up the road from Dr. Graff's Orthodontics and just past Four Corners Dental. Head up N Butler Ave, north of Smith's Grocery. We are in the same complex as Dr. Herman's Orthodontics, just on the south end of the parking lot. We are right next door to Yoder Law.
Our care is specific to your condition or injury. We don't offer "cookie cutter" treatments. We create the best plans to address YOUR concerns and meet YOUR health and fitness goals. We will always work with your schedule. We are family oriented and have successfully treated children from newborns to college. Our FSSA system treats aches and pains as well as stimulating new healing and continued healing of injuries and disease. Many of us have injuries from the past that still haven't fully healed, our care stimulates new healing. Many of us are suffering from chronic pain, our care identifies the reasons and finds the best solutions so you can go enjoy life. Many are suffering from disease, we coach our patients on the best at home care for long-term health. We also design nutritional plans that support healing and recovery.
We care about the long-term well being of our patients. We are always adding new videos to our YouTube channel with tons of tips, exercises, stretches, and healthy habits. We respect your time and finances and we build our care plans accordingly.
Lower back pain, herniated disks, or backs that have "gone out," from bending, twisting, lifting, playing sports and sleeping in hotels.
Nerve pain and sciatica are very common with lower back pain. We calm these conditions down quickly and then create a plan to keep the pain from coming back.
Neck pain from car accidents, whiplash, sports, boating, off-roading the side by side in Choke Cherry Canyon.... and "sleeping wrong."
Most people will have some kind of injury or car accident in their lifetime. We have designed our treatment programs so you can get the care you need after a car accident without having to pay anything out of pocket, even when you don't have an attorney. If you need an attorney after an injury or accident, we work with the best. Car accidents cause muscle and tendon injuries resulting in muscle spasms and pain. There are often head injuries or concussions associated with the accident. Our care includes treatment to relieve pain, treatment to sore muscles and joints and treatment that improves and stimulates a more complete healing of sprain strain injuries.
It is all part of our FSSA system, and at home care support system. We have a unique protocol to treat TMJ (temporomandibular disfunction) pain. TMJ pain limits jaw movement and causes pain while eating. We see quick recoveries from TMJ when we can address the muscle tightness and joint swelling. Very often TMJ is caused by teeth clenching, or certain sleeping habits. We developed simple steps to address those causes. Shoulder pain from old injuries, working, working too much...., driving, and other things like frozen shoulder can limit your day and cause pain.
We work to improve flexibility and strength.
Elbow and wrist sprain/strain injuries can be caused by throwing balls, hitting the course, driving the tractor, fixing the equipment and all those weekend warrior activities.
Frozen shoulder is often the result of injury and then slowly progress as more and more should mobility is lost. We work to restore shoulder mobility and strength. We like it when our patients can brush their hair with both arms.
Numb hands, like carpal tunnel syndrome, or hands falling asleep at night, on road trips, or while on the bike, are a common symptom of tension in certain muscles.
We know right where to release that muscle tension. Painfully hips from old car wrecks and falls, as well as hip stiffness, can slow you down. Our programs improve hip mobility while decreasing hip pain.
Knee pain can be caused by arthritis, basketball and football injuries, running and jumping, or too many stairs.
Ankle and foot pain, like plantar fasciitis, can be caused by old fractures, sprain strain injuries, standing too long or lost foot arches.
We treat your feet like royalty.
We successfully treat muscle strain and soreness from working out, playing sports, dancing, working too hard, and also from injuries and accidents. We treat tension and migraine headaches. We also coach our patients on the best desk and work ergonomics to reduce headaches. Our FSSA system helps improve or restore lost balance and coordination. We successfully treat benign vertigo using the Epley's maneuver. There is a high level of pollen and other environmental allergens here in Farmington. We have coaching programs designed to help with seasonal and food allergies. These programs introduce you to the most effective supplements and home habits for healthy immune system support. We help our patients create the best habits to support the body when dealing with chronic pain or chronic fatigue.